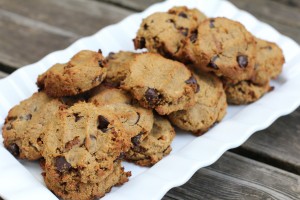 Well, I figured it was about time I posted a recipe again, so here it is! This is a delicious breakfast cookie that I make every week or two then store in the freezer. It's especially perfect in the fall during pumpkin season, but I make them all year. Sometimes I make the cookies really big and then get kind of sad that I can only eat one. More often, I make them a bit smaller so I don't feel bad having two (or three).
I also change up the mix-in ingredients depending on my mood. I always include chopped nuts, usually pecans. Then I alternate between fruit-sweetened dried cherries and dark chocolate chips. I feel better about the cherry-pecan cookies since eating chocolate for breakfast just doesn't seem right. But they both TASTE right, so you go ahead and choose!
These cookies are soft and chewy and will stay good at room temperature in a sealed container for a day or two and in the refrigerator for maybe 3-4 days. If I won't be eating all of the cookies within that time, I store them in the freezer and then heat them up in the toaster oven when I want them.
These make a delicious, quick, and egg-free breakfast treat but I could also see them filling in as a great after school snack. I hope you enjoy them as much as I do!
Pumpkin Breakfast Cookies (egg-free)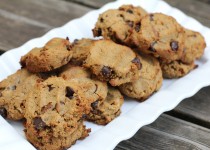 A food processor helps pull these together quickly but they can also be mixed by hand.
Be sure to use pure canned pumpkin, preferably organic, NOT pumpkin pie filling.
Prep Time:

15 minutes

Cook time:

15 minutes

Yield:

12-20 cookies

Allergens: Nuts
Ingredients:
Preparation:
Preheat oven to 350ºF.
Line a baking sheet with parchment paper and set aside.
In the bowl of a food processor, combine wet ingredients and process until smooth.
Add dry ingredients and pulse until it forms a thick, sticky batter.
Remove the food processor blade and stir in the mix-ins (nuts, dried fruit, chocolate chips).
Scoop batter onto parchment paper and press gently to flatten a bit.
NOTE: Batter will not spread so you don't need to leave a lot of space between them.
Bake 10-15 minutes or until the outside is a little browned and crispy but the inside is still soft.
Remove from oven and let cool for two minutes on the baking sheet, then transfer to a cooling rack until  completely cooled.
Store in an airtight container for 1-2 days at room temperature, 3-4 days in the refrigerator, or in the freezer.
Adapted from The Girl Who Went Paleo.