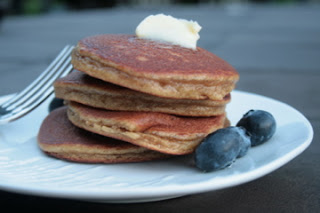 The kids requested pancakes for dinner tonight so I took the opportunity to try out a recipe from one of my favorite paleo blogs, Urban Poser. I usually need to sneak paleo ingredients into my kids foods, so the neutral taste of almond flour works better for their baked treats. These pancakes were so tasty, my kids devoured them! No questions asked. The texture is that of a "real" pancake and the flavor–delicious. You will definitely enjoy this treat any time of day! These pancakes can be made in advance, cooled, and frozen. Simply rewarm in the toaster oven or toaster. I cooked them on my stovetop griddle, but a cast iron skillet  would work great, too.
(Originally posted Aug 20, 2012)
UPDATE (Nov 5, 2015): I made these tonight and divided the batter in half. I added chocolate chips to Aly's half. Josh is all about protein these days and requested protein powder and banana in his pancakes, so I mixed 1/2 of a small mashed, ripe banana with 1/2 scoop pure vanilla whey protein, then added that into his half. The texture of the pancakes was great and he devoured them all!
Almond Flour Pancakes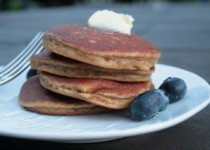 You can quickly bring whole eggs to room temperature by setting them in a bowl of very warm tap water for about 5 minutes.
Ingredients:
Preparation:
Sift dry ingredients into a large mixing bowl, forming a well in the center with a spoon.
In a medium bowl, whisk together eggs, 4 Tbsp coconut milk, honey, and vanilla.
Pour wet ingredients into dry ingredients and mix well with a spoon. If the batter is dry, add 1 Tbsp coconut milk.
Let batter sit for 5 minutes.
Coat cooking surface with coconut oil.
Set griddle to 300 degrees or warm skillet over medium heat.
Scoop 1 Tbsp of batter onto prepared griddle. Repeat to make small pancakes.
Cook 2 minutes on first side or until bubbles start forming around the edges.
Flip and cook 1 minute on second side or until center is cooked through.
Keep cooked pancakes warm in a low oven (170 degrees F).
Garnish with honey, pastured butter, and fresh fruit--or your favorite paleo toppings
Adapted from urbanposer.blogspot.com.